The Helly Hansen hi vis waterproof Potsdam jacket is available in a range of different colours and sizes. Many stockists stock the hi vis jacket in orange and navy, red and charcoal and yellow and charcoal. As well as having a choice of colours, it is also available in sizes from S all the way through to 4XL.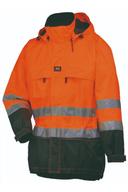 Features
The Helly Hansen Potsdam jacket has many features some of which include the following:
Hi visibility – enabling you to be in seen in dark spaces and ensure you can be seen by others.
Waterproof – this element protects you from the rain ensuring you are kept dry throughout your day or at work.
Breathable – this allows you to stay warm however not sweat whilst wearing the jacket as the jacket has air holes allowing air to flow through the jacket.
This jacket has a detachable hood ensuring no hazards can be caught onto the hood when not in use.
Reflective bands at the shoulder and end of sleeves of jacket allows you to be seen when light is shone on you, making vehicles aware of your presence.
Two pockets to store any personal belongings or tolls whilst at work.
There is a mobile phone and pen pocket to store these items and keep them safe and secure.
If you find yourself getting hot and sweaty, there are under the arm zips to allow ventilation.
You are able to adjust the draw cord at the waist.
Elasticated Velcro adjustments at the cuffs to keep in warmth or for extra ventilation.
Advantages
The Potsdam jacket is part of the Helly Hansen workwear range and has many advantages due to its features and the material it is made with. For more information or to find out the advantages of the Helly Hansen hi vis waterproof Potsdam jacket contact us.